Bus Stops Films has been in operation since 2009, teaching adults with disabilities and others from marginalised communities film studies. We use filmmaking and the film industry to change community attitudes globally around the rights and contribution to society of and by people with disability.
We EDUCATE, CREATE and ADVOCATE. Bus Stop makes films with, for and about people from diverse backgrounds and abilities.
Our programs are taught by passionate filmmakers and industry experts to give our students a holistic filmmaking learning experience and offer students increased, social, literacy and work ready skills.
Students who participate in our programs benefit from exclusive workshops, excursions, workplace opportunities, mentoring with industry professionals and the opportunity to work collaboratively on a film project.
This is my 3rd year with Bus Stop Films. We have had the opportunity to learn about stop motion animation and create from start to finish our own stop motion animation which was really fun. We came up with ideas then formulated them into a storyboard and then became and arts department to create what we used in the animation. We set up the scenes and filmed and added sound.
Rae – Bus Stop Films student
Reports, Policies and Strategies
Read our annual reports, policy documents and our guiding strategies to gain further insight into our organisation.
Bus Stop Films wouldn't happen without amazing supporters, encouraging partners, dedicated sponsors and a team of big thinkers.
Bus Stop Films is run by a group of passionate and dedicated individuals who understand the power of filmmaking and education. Everyone on the team gives their time and resources to make our films, workshops and advocacy events possible.
Genevieve Clay-Smith
Co-Founder and Director
Genevieve is a diversity and inclusion champion, creative director, social entrepreneur, arts and culture advocate and Australia's foremost globally innovative, inclusive filmmaker. She has a portfolio career, which spans the film industry, not for profit sector and advertising. She's an award-winning writer/director, with work showcased at various Oscar qualifying film festival and the United Nations. Genevieve has recently received the Emerging Leader award at the 2019 Telstra Business Women's Awards.
Read more...
Additionally in 2016 she won the B&Ts 30 under 30 award in the & entrepreneurial category, in 2015 she was the NSW Young Australian of the year and in the same year won the B&Ts Women in Media award for creative. Genevieve also won the 2014 100 Women of Influence, Young Leader award.
She is co-founder of creative agency Taste Creative, which was awarded the 2018 Optus Marketing & Advertising Business of the Year, along with being shortlisted for the 2015 Mumbrella Award for best Emerging Agency and was shortlisted for B&Ts Emerging Agency of the Year award. She has over 10 years experience working in the creative industry across an array of diverse media platforms with her primary passion being film. She's also the Co-Founder and former CEO of Bus Stop Films, a not for profit that provides an accessible film studies program for people with intellectual disability. Currently, Bus Stop is forging partnerships with top production companies to provide work experience and employment opportunities for people with disability who are involved in the program.
She is a board director of the Monkey Baa Theatre and is also a former committee member on the NSW Arts and Culture Advisory board.
Eleanor Winkler
Co-founder
Eleanor is a film, tv and digital producer with 12 years' experience producing short and longform, narrative and branded content in the US and Australia. As the co-founder of Bus Stop, Eleanor was driven to create a space for innovation and inclusion for under-represented communities in the film and television industry and bring audiences socially conscious comedy across multiple platforms. Eleanor acted as Executive Producer from 2009 thru 2018, producing many of the company's shorts including The Interviewer and I Am Emmanuel. In her time at Funny Or Die, Eleanor produced sketches featured by The Hollywood Reporter, Indiewire, Huffington Post, MTV, FastCompany and Splitsider. 
Read more...
She's also collaborated with A-List talent like Judd Apatow, Amy Schumer and Rachel Bloom. Moving from sketch, to late night, then across to narrative, Eleanor is now Co-Executive Producing comedy for ViacomCBS, which includes season 1 & 2 of HOT DATE. Her unique collection of work has been viewed millions of times online, included in school curriculums, and influenced public policy. Eleanor continues to collaborate with Genevieve Clay-Smith and Bus Stop Films on upcoming feature film BABY CAT.
Peter Tonagh 
Chairman
Peter is a prominent business leader with extensive experience within the Australian media industry. He is currently Deputy Chairman of the Australian Broadcasting Corporation and Chairman of ACT Media Ventures. He has recently completed a term as a member of the Council of the Australian Film Television and Radio School. His previous executive experience includes roles as Chief Executive Officer of both Foxtel Management Pty Limited and News Corporation Australia and as Interim Chief Executive Officer of REA Group Limited. He is former Chairman of MultiChannel Networks Pty Limited and a former Non-Executive Director of Ten Group Holdings Limited.
Read more...
Peter has a B.Comm from UNSW, an MBA from INSEAD, Europe's leading business school, and is currently completing the Harvard Business Analytics Program. 
Peter is a committed advocate for equality, diversity and inclusion and is passionate about the role of content creation in driving social cohesion.
Emily Dash
Emily is a writer, actor and disability advocate, whose varied work across the community arts and mainstream sectors emphasises social justice.  She is also a producer and project manager at Maitree House Productions, and is an Accessible Arts Advisor. She has 10 years experience on the Board of Participate Australia, 9 of which she served as Vice Chair. She was selected as the NSW Representative to the National Arts and Disability Strategy Steering Group in 2018, and in 2019 became a Board Director at Bus Stop Films. Emily also sits on the board of Accessible Arts.
Read more...
Emily was shortlisted for the 2018 Equity Diversity Showcase. She also participated in AFTRS NSW/ACT Talent Camp 2019 and Screen Australia SBS Digital Originals 2020.  As a 2018/2019 PACT Resident Artist, she created her own show "Freefall" (2019). Selected credits include "Chrysalis" (2017) for Midnight Feast Theatre, staged reading of "The Normal Heart" (2017) at Darlinghurst Theatre Company, and "CONNECT" (2016) for Red Door Arts and Ever After Theatre.  Her film credits include "Groundhog Night" (upcoming 2020), "The Milky Pop Kid" (2017), "The Cards I'm Dealt" (2016) and "I Am Not A Work Of Art" (2016). She did a writing and research internship with Matchbox Pictures in 2017, from which she was credited as a consultant on ABC drama "The Heights".
Brian Maguire
Brian Maguire B.Comm, FCA, is the Founder of Absolute Clarity Business Coaching and Mentoring Group. Brian is a Chartered Accountant with over 40 years experience in the Corporate, Business and Not-For-Profit sectors. Brian has maintained a full Business Coaching practice since 2001.
Read more...
Brian is a founding member of the International Association of Coaches and has served on the Boards of the International Coaching Federation Australasia, The Business Enterprise Centre and Pittwater Business Limited. He currently serves on the Board of The Heal For Life Foundation.
Born in Ireland, Brian completed his professional accountancy training with KPMG followed by Senior Financial and Commercial Management roles with Pacific Dunlop, Reil Corp and ICI/Orica here in Australia. Since 1994 He has been involved in building and running his own businesses.
Brian has been a mentor, coach and educator for most of his professional life and has developed and presented business development programs for many corporate clients.
Brian is committed to helping business owners and leaders get more out of life professionally and personally while maintaining focus on what really matters, and Absolute Clarity operates to a set of values that reflect this commitment.
Kate Aitken
Kate is the Vice President of People and Culture at Optus. She has previously served in a number of senior Human Resources and business roles at Westpac, Goldman Sachs and Macquarie in Australia, Asia and London.
Kate is a Director of the Junior Diabetes Research Foundation, is a member of Chief Executive Women where is also a member of the Scholarship Committee and is a founding member of the Minerva Network.
 She is passionate about equality, access, inclusion and diversity and has designed, led and championed important and innovative initiatives and programs throughout her career.
Read more...
She is passionate about equality, access, inclusion and diversity and has designed, led and championed important and innovative initiatives and programs throughout her career.
Fiona Stuart
Fiona Stuart is a media and entertainment lawyer with over 17 years' experience advising clients in various commercial and media law matters with a specialisation in television production/financing, multi-platform content licensing, domestic and international distribution deals and music licensing arrangements, working for key industry players including Foxtel, Screentime and Matchbox Pictures.  Fiona is currently General Counsel of HOYTS Group. 
Before her career in law, Fiona was a voice actor in South Korea for 7 years and performed in various children's animation series including Pokémon, Winnie the Pooh and Hello Kitty. Fiona was drawn to Bus Stop Films as a leader in inclusive filmmaking and joined the board in the capacity of Company Secretary in 2020.  
Read more...
Before her career in law, Fiona was a voice actor in South Korea for 7 years and performed in various children's animation series including Pokémon, Winnie the Pooh and Hello Kitty. 
Fiona was drawn to Bus Stop Films as a leader in inclusive filmmaking and joined the board in the capacity of Company Secretary in 2020. 
Jennifer Collins
Jennifer is one of Australia's leading television executives with a career spanning 29 years. She was most recently Director of Content at Fremantle in October 2018, with responsibility for both scripted and unscripted development and production slates after 5 years in her role as Head of Non-Fiction at Screentime, where she oversaw a slate of programs that included The Secret Life of 4 year olds, Stop Laughing…this is serious, Todd Sampson's Life on the Line, Testing Teachers, Making Child Prodigies, Date Night, Eat Well for Less, Flying Miners, Outback ER, Felicity's Mental Mission, How Not To Behave, and RBT.
Read more...
Formerly at ABC TV she was responsible for hundreds of hours of content. As Head of Entertainment she oversaw a slate of highly acclaimed programs including Dirty Laundry Live, Adam Hills Tonight, The Chaser Decides, Julia Zemiro's Home Delivery, Mad as Hell, The Agony of Life, Gruen Planet, The Elegant Gentleman's Guide to Knife-fighting, Tractor Monkeys and Kitchen Cabinet. She commissioned the Digital Emmy award winning series #7 Days Later and set up the online comedy initiative Fresh Blood. As ABC TV's Head of Factual she was responsible for the development and commissioning of an impressive slate of documentaries as well as factual entertainment series including Poh's Kitchen, Who's Been Sleeping in My House?, Dream Build and The Checkout.
Trent Blacket
Trent is an Australian born Lawyer and media / tech investor, currently based between Melbourne, Australia and California. Trent is the Founder of EMT Partners, a diversified law, M&A and investment firm. Trent is also a founding shareholder alongside Quadrant Private Equity via Ward Blacket Investments LLC in Chris Hemsworth's Centr.com and FLG. Trent is a long-term co-investor partner with Amalfi Capital (San Francisco, Shanghai, Melbourne). 
Read more...
Trent was a founding Advisory Board Member of Westpac Bank's Alpha (Entertainment & Sports bank) business, Chairman of Advance Los Angeles Chapter prior to his return to Melbourne, VidConAustralia Advisory Board Member and was formerly Of Counsel to Glaser Weil (a leading Los Angeles law firm) alongside his colleague, Greg Suess, representing Australian legal clients in California. 
In 1996 Trent commenced his legal and investment career with TCA in Melbourne (part of the Kroger & Kroger, JT Campbell, Tanya Cirkovic family of companies), working there until 2006. Trent holds a Bachelor of Laws and a Bachelor of Jurisprudence from Monash University. 
Joanna Agius OAM
Joanna Agius OAM is a profoundly Deaf and proud Narungga woman with connections to Kaurna, Ngarrindjeri and Wirungu nations in South Australia. Joanna is a strong advocate for Deaf and Hard of Hearing Aboriginal people in Australia, starting as Aboriginal Liaison Officer in Adelaide. 
In 2005, Joanna started teaching Auslan with the late-Barry Priori at South Australia Deaf Society. Joanna then moved to Sydney to teach Auslan and in addition, Joanna coordinated the 'Signing Art' program for Deaf/Hard of Hearing Aboriginal people. Joanna is now back in Adelaide and teaches Auslan at TAFE SA. In 2020, Joanna was awarded the Order Medal of Australia (OAM) for services to people who are Deaf or Hard of Hearing and to the Deaf Aboriginal community. Joanna is founder of Deaf Aboriginal Services, a 100% Aboriginal owned and operated business providing a range of direct services, building capacity between Aboriginal and Non-Aboriginal people, services, and organisations.
Joint Patrons
His Excellency General the Honourable David Hurley AC DSC (Retd) &
Her Excellency Mrs Linda Hurley
His Excellency General the Honourable David Hurley AC DSC (Retd)
Governor-General of the Commonwealth of Australia
His Excellency General the Honourable David John Hurley AC DSC (Retd) was sworn in as the Governor-General of the Commonwealth of Australia on 1 July 2019.
David Hurley joined the Australian Army in January 1972, graduating from the Royal Military College, Duntroon into the Royal Australian Infantry Corps. In a long and distinguished 42-year military career, his service culminated with his appointment as Chief of the Defence Force.
Read more...
He commanded the 1st Battalion, The Royal Australian Regiment during Operation SOLACE in Somalia in 1993, receiving the Distinguished Service Cross. Following promotion to Colonel, he was appointed Chief of Staff, Headquarters 1st Division in June 1994, attending the U.S. Army War College in 1996 and 1997. He commanded the 1st Brigade from 1999-2000 in Darwin, supporting Australian-led operations in East Timor. He was appointed the inaugural Chief of Capability Development Group from 2003-07, Chief of Joint Operations Command in October 2007, and Vice Chief of the Defence Force in July 2008. Promoted to General, he succeeded Air Chief Marshal Angus Houston as Chief of the Defence Force on 4 July 2011 until his retirement on 30 June 2014. In 2010, he was appointed a Companion of the Order of Australia for eminent service to the Australian Defence Force.
Prior to being sworn in as Governor-General, David Hurley served as the 38th Governor of New South Wales from October 2014 – May 2019.
David Hurley was born in Wollongong, New South Wales on 26 August 1953, the son of Norma and James Hurley. His father was an Illawarra steelworker and his mother worked in a grocery store. He grew up in Port Kembla and attended Port Kembla High School where he completed his Higher School Certificate in 1971. He graduated with a Bachelor of Arts and Graduate Diploma in Defence Studies from the Royal Military College, Duntroon in 1975. He is married to Linda with whom he has three children: Caitlin, Marcus and Amelia.
He was awarded an Honorary Doctorate of Letters from the University of Wollongong in 2013; a Doctor of the University, honoris causa, from the University of New South Wales in 2015; made a Fellow of the Australian Academy of Technology and Engineering in 2016; and awarded an Honorary Doctorate from Macquarie University in 2017.
Her Excellency Linda Hurley
Her Excellency Mrs Linda Hurley (nee McMartin) was born and raised in Sydney. She was educated at Kingsgrove High School and went on to become a teacher, commencing in 1976. She married David Hurley in 1977.
In the course of their married life, Mrs Hurley has supported her husband throughout his career on a wide variety of postings in Australia and overseas, including the United States, the United Kingdom, Germany and Malaysia.
Mrs Hurley's own career in education has been in both the public and private school systems, until her retirement from full time teaching in July 2011. She has been an active member of the community as a Pastoral Carer at the Canberra Hospital and Hospice. Mrs Hurley holds a Bachelor of Education from the University of Canberra.
Read more...
Mrs Hurley has an interest in the Arts, especially music. She is passionate about singing, and showing how singing, especially in a group, can have a positive impact on individuals and the community.
Mrs Hurley is a member and was the first Patron of 'Solid Rock', a Christian Ministry to women in Defence. She has been a member of the St Andrew's Presbyterian Church choir in Canberra and is a member of the Australian Military Wives Choir.
Mrs Hurley is dedicated to championing causes that are developing new technologies to recycle rubbish, and ways to reduce our use of plastic, particularly plastic packaging and plastics used for single use items, which are not only harmful to the environment but add unnecessarily to landfill sites.
Their Excellencies have three children: Caitlin, Marcus and Amelia, and one grandchild: Charlie.
Miguel Maestre 
Ambassador
Miguel first jumped on board the bus in 2022, when he starred in our film Mise en Place, playing a talented chef with a big heart. It was obvious that Miguel's passion for kindness was a great fit for the work of Bus Stop Films.
Having worked for many years in various kitchens around the world, Miguel Maestre is one talented Spaniard who has made Sydney his home. Born in Murcia in the south of Spain, his love for food was pre-determined from a young age. Miguel's passion for food and life is infectious, and he has developed a talent for incorporating Spanish ingredients and cooking styles into his Australian menus. 
Read more...
Miguel worked alongside some of the best chefs in Australia including Serge Dansereau of Bathers' Pavilion, and the Godfather of Australian Cuisine Tony Bilson being head chef of his restaurant "Number One".After being inspired with Ferran Adria in the kitchen of the number one restaurant in the world "El Bulli";, he opened his first Spanish Restaurant in Australia "El Toro" The biggest Spanish restaurant in the country in an outstanding waterfront location at Manly Beach.
Some of his cooking credits include being the head chef at the most prestigious events in Australia 'Emirates Melbourne Cup' and 'Australian Grand Prix', building a strong reputation in the cooking scene.
Miguel has been awarded by His Majesty 'The King of Spain' the highest award a citizen can receive "The Order of Civil Merits"; for his extraordinary service to the nation for the benefit of Spain in the Australian media.
It is Miguel's co-hosting role on TEN 4 time Logie Winning Show and 1 AACTA Award "The Living Room" that has catapulted him into the world of TV. Other TV credits include "Boys Weekend"; (airing in more than 100 countries worldwide, "Miguel's Tropical Kitchen"t; where he charms his way through the tropics of North Queensland, cooking with exotic ingredients in breathtaking locations,;"Miguel's Feasts"; airing on Network 10 and internationally, ;Weekend Feasts" and competing in "Dancing With The Stars".
2020 saw Miguel win over the hearts of all the Australians being crowned the "King of the Jungle" on "I'm a Celebrity Get Me Out Of Here!".
Miguel's love of fresh, local and seasonal produce also sees him as a regular in the country's top food festivals including Good Food & Wine Show and Regional Flavours, just to name a few.
He is the owner and founder of Maestre Enterprises, the most gourmet Spanish brand in the country showcasing over 100 products in the range including smallgoods, bakery, cheeses, paella kits, patatas fritas and cookware.
Miguel is the author of three best selling Spanish books "Miguel's Tapas" and "Spanish
Cooking"; and "Feasts". And co-author of the best selling "Life Force" with Barry Du Bois.
In the Australian Talent Index Miguel Maestre is the 2nd most trustworthy talent on Australian Broadcast and the Fifth most Popular making him a household name in Australian Media.
Miguel is also a proud Brand Ambassador for Stockland and Harris Scarfe. Miguel also works very closely with the following charities OzHarvest, R U Ok? and CARE Australia.
Take a look behind the scenes on Mise en Place and interviews with Miguel
Courtney Gibson
With a background in TV production and commissioning, Courtney is strong leader in the industry having served as CEO of Screen NSW, CEO South Australian Film Corp and Adelaide Studios, Programming Production Executive at the Nine Network, Director of Programmes at Southern Star, Executive Head of Content Creation at ABC TV, Head of Arts, Entertainment and Comedy at ABC TV and Commissioning Editor of Documentaries at SBS Independent.
Read more...
As CEO of Screen NSW Courtney introduced policies which delivered gender parity in key creative roles for women in TV in 2016; she was awarded the 2017 Cecil Holmes Award by the Australian Directors Guild in recognition of this. Courtney was Chair of the Screen Diversity Inclusion Network (SDIN), a Board Member of Australians in Film which promotes Australian screen practitioners and screen culture in Los Angeles and serves on the Board western sydney community arts organisation Information + Cultural Exchange.
Paul Nunnari
Paul is a strong disability advocate, entertainer and Paralympian. Paul has worked across all levels of government providing advice on the National Disability Strategy, the National Disability Insurance Scheme, and the NSW Disability Inclusion Action Act.
Read more...
Paul works for the NSW government as Director Access and Inclusion. As part of this role Paul advises the Events team on the implementation of accessible and inclusive event planning and delivery to all major and community NSW Government supported events across NSW. These events include Sydney NYE, Invictus Games, Australia Day, ANZAC Day, Sydney Gay and Lesbian Mardi Gras, the Sydney Vivid Festival, Newcastle 500's and World Rally amongst others.
Tracey Corbin-Matchett OAM
Chief Executive Officer
Tracey is a proud hard of hearing woman with a passion for film, advocacy and inclusion. As CEO of Bus Stop Films she is advocating for greater representation of people with disability in the screen industry, receiving an OAM in 2023 for service to the arts and to people with disability. Her 25-year career has crossed social housing, women's domestic violence services, including 6 years as the State Manager of Women's Domestic Violence Court Assistance Program and the film and television industry, working with a number of industry services including Screen NSW, Event Cinemas and Women in Film and TV (WIFT) NSW. 
Read more...
Her advocacy work in the screen industry has seen her lead on strategies including "Screenability" and "She Shoots" at Screen NSW and WIFT's Raising Films Australia and growing the work of Bus Stop Films on a global scale.
Tracey is an Includeability Ambassador on disability employment to the Australian Human Rights Commission and a Director of Deaf Sports Australia and Northcott (Disability Services). She is also a member of the Screen Australia's Gender Matter Taskforce, Screen Producer's Australia Respectful Workplaces Reference Group and TAFE NSW Creative Industries Taskforce. Tracey was a member of the Australian delegation of disability advocates to the United Nation's 15th Conference of State Parties to The Convention on the Rights of Persons with Disabilities (CRPD). Tracey is Executive Producer of Bus Stop's slate and co-produced films including Groundhog Night and Valiant.
Tracey holds a Bachelor of Arts, Welfare Studies (WSU) and a Diploma of Business, Frontline Management (UTS).
Dianna La Grassa
Chief Operating Officer
With over 10+ years of experience in the education sector, an MBA graduate and a NIDA trained actress Dianna is our Chief Operating Officer and resident Producer. Her background in adult education underpins the delivery of our Accessible Film Studies Program.
As the COO it has given her great pleasure to watch the organisation pave ground-breaking pathways for the inclusion of people with disabilities in the film industry and watch the students blossom in these interactive and unique environments, seeing them develop real life skills and opportunities for their passion. Dianna has produced more than 25 film projects with Bus Stop Films including the multi award winning Groundhog Night and What Was it Like? and acclaimed films Filters, Visible and This Is News Radio.
Read more...
Monica Power
Support and Engagement Manager
Monica Power has been a loyal member of Bus Stop Films since the organisation launched its classroom learning in 2010. Prior to becoming the company's Support and Engagement Manager, she worked in health care as a Support Worker for Lifeways Community Care, then Sydney Community College. Today, support staff rely on Monica for direction and advice to better assist students. With 20 years of experience working in the disability sector, she is an expert at determining when best to step in to help support workers, and when to step back.
Read more...
Patient and organised, her superb communication skills foster meaningful relationships with colleagues who appreciate her positive attitude and sense of humor. As an advocate for inclusion in the workplace, friend groups, sports teams, and every other facet of life, Monica has worked with a variety of people with mental health issues and disabilities. She is known to be a problem solver, loves to see others achieve their goals, and takes pride in her role in helping to make that happen.
Monica has a Diploma in Health and Social Care, and a host of specialised training. When she isn't championing for change for people with disabilities, Monica enjoys dabbling in cryptocurrency, camping, and walking her four dogs.
Sarah Jane Rudolph 
General Manager
Bus Stop Employment
Sarah was part of the founding team of Bus Stop Films, jumping on board in 2011. Showing strong commitment to the organisation, in the early days spinning plates as teacher, support worker and filmmaker. Playing a major role in taking Bus Stop Films programs internationally, Sarah forged pathways for inclusion on studio productions both locally and overseas. Winning several awards including recognition as a Producer at TIFF in 2016, Sarah has since built an outstanding career in the film and television industry, with credits under Warner Brothers, Amazon and Netflix productions in Australia and offshore. 
Read more...
While also honing her skills as a seasoned inclusive educator and philanthropist under several social enterprises and disability organisations, Sarah's knowledge of both the film industry and disability support sectors blends perfectly in leading Bus Stop's commitment to disability employment in our newly established Bus Stop Employment business unit.
Sarah holds an Associate of Arts: International Relations and Post Grad Certificate – Global Development from UNSW.
Nikoleta Minns 
Program and Student Experience Coordinator
Nikoleta has over 15 years experience in producing and project management, across visual arts, performing arts and multidisiplinary work, including education and public programs. Nikoleta has held roles as Assistant Producer and Education and Public Programs Officer at Campbelltown Arts Centre (CAC) and Program Support Officer at Create NSW. At CAC, Nikoleta led on multiple arts projects including an Indigenous youth dance program with an annual partnership program with NAISDA Dance College and the acclaimed Fisher's Ghost Art Award and Parliament of NSW Aboriginal Art Prizes. 
Read more...
Nikoleta holds Masters of Art Administration – College of Fine Arts, UNSW and successfully completed a 12 week internship at the Powerhouse Museum working Public Programs – Adult Learning as part of her degree.

She is passionate about engaging and empowering diverse and marginalised communities through the creative industries.
Serena Moran 
Marketing and Events Coordinator
Serena is from Ireland and has 10 years of experience in marketing working across various sectors from FMCG, hospitality and not for profit. Prior to working at Bus Stop Films Serena worked at hospitality chain Merivale managing top tier events. Serena loves everything about marketing including design, copywriting, project management but where she really excels is anything got to do with event management.
Patient and calm, her personable attitude to work means she can foster meaningful relationships with colleagues, stakeholders and just about anyone. Serena loves creating a distinct tone of voice, positioning and brand mission and vision.
Read more...
Serena has an MSc in Advertising from Dublin Institute of Technology and a BA in New Media and English from the University of Limerick. Serena also works as an ESL teacher in Sydney which fuels her passion for language, other cultures and being of service to others. Serena enjoys reading, Crossfit, seeing her favourite bands and films. She is super stoked to be able to combine her passion for not-for-profitand not-for-profittop-tier and films together.
Donal Brady 
Chief Financial Officer
Donal is an accomplished finance professional who brings more than 15 years of industry experience to Bus Stop Films as our CFO. With an extensive background in strategic financial management across healthcare, software and consultancy, Donal is thrilled to contribute to Bus Stop Film's mission, bridging the gap between finance and our organization's objectives.
Donal is an FCA and holds a B.Comm and M.Acc from University College Dublin. His financial experience has been instrumental in managing resources effectively, driving growth, and ensuring sustainability of organizations he has worked with. Watching Bus Stop Films create opportunities and drive inclusivity within the film industry is a source of immense pride for Donal. He is inspired by the creativity and resilience of the individuals participating in our programs and is excited to be a part of their journey.
Ivria Dubs
Film Distribution Development Manager
Ivria is a film industry professional with ten years experience in festivals, programming and distribution. Ivria has worked with international organisations across the USA and Australia, including New York Film Festival, Sydney Film Festival and Screen Forever. She has curated feature films for the prestigious Asia Pacific Screen Awards competition and short film programs for Brisbane International Film Festival, as well as implemented festival strategies for Venice-premiering 360-film SORELLA'S STORY and for emerging talent at the Australian Film Television and Radio School (AFTRS).
Read more...
Ivria joined Bus Stop Films in 2023 as Film Distribution Development Manager. In this newly created position, she will be securing more audience pathways for Bus Stop Films' growing film catalogue and maximising the organisation's global impact. Ivria will be managing festival strategies, sourcing new distribution opportunities and cementing screening partnerships.
Ivria is passionate about film and is dedicated to promoting visual storytelling from around the globe. She holds a BA in Cinema Studies from New York University's (NYU) Tisch School of the Arts.
Seema Dudley – Employment Trainer and Assessor
Seema

 

has three years experience working for Jigsaw Australia providing workplace skills training for people with disability, including specialised 1:1 support/work experience, and group training delivery on workplace capabilitieS. Prior
 to this 

Seema

 worked for Nine Network Australia (Channel 9) in their newsroom as a Senior News Non-Linear Editor, editing for their flagship 6pm broadcast, along with feature story editing for The Today Show, and Today Extra.
Read more...
Seema

 

is also the host of Atypical Education, a feature-length documentary about the challenges often faced by students on the autism spectrum as they take part in the Australian education system. The independently made documentary, filmed in 2020, was picked up by SBS Australia and aired on 2nd April 2022, it was featured on their SBS On Demand service for one year. The documentary can now be found on 

Seema

's youtube channel – 
https://www.youtube.com/watch?v=dYp3rV8jzoI
Seema

 

has a keen passion for disability advocacy/inclusion and the film/tv industry,

 

Seema

 

says that Bus Stop Films and Bus Stop Employment offer the beautiful fusion of both and she is incredibly passionate about helping create a more inclusive industry for all to enjoy and be a part of!
Heather Webb – Philanthropy and Sponsorship Lead
Heather (She/Her) has over 25 years of leadership experience working in the arts non-profit sector in Canada and Australia supporting the career development of visual and media artists and the production and dissemination of their work. Her career has been driven by her passion for the arts, non-profits, gender equity advocacy, and making positive and impactful change through collaboration and partnerships.
Read more...
As Philanthropy and Sponsorship Lead, Heather brings expertise in developing and implementing successful fundraising campaigns, donor and sponsor stewardship management, and cultivating dynamic partnerships across different sectors together with in-depth knowledge of the screen industry. Prior to relocating to Australia in 2019, Heather spent
8 years as the CEO of Women in Film & Television – Toronto and its charitable organization, Foundation for WIFT-T.
Heather has a MA (Art History) from Concordia University, Canada, and a Certificate in Non-Profit Management and Leadership from the Executive Directors' Institute, Schulich School of Business, York University, Canada. Since 2019 she has been a member of the Natalie Miller Fellowship Management Committee (Melbourne, Australia).
Kirstie Boerst – Program and Student Experience Coordinator
Kirstie is a creative producer and media arts student administrator and educator. She is a qualified school learning support officer who is passionate about providing inclusive educational opportunities for all students.
Kirstie is responsible for student communications here at Bus Stop Films.
Hugues De Robillard – Media and Digital Marketing Manager
Hugues joins the Bus Stop Films team after a storied career in the media, entertainment and digital marketing world. Managing his own integrated creative agency, Guerrilla Films, Hugues worked alongside, consulted and produced cross-platform media campaigns for some of Australia's most beloved and recognisable brands and institutions. 
Outside of the professional environment, Hugues devotes his time in volunteering and fund-raising for several philanthropic enterprises and local organisations as well as mentoring and training young athletes in the football, boxing and fitness world.
Always up for a chat, a kick, a training session or a surf, Hugues brings his composed and (self-proclaimed) "geeky analytics" approach to the Bus Stop family and community with a smile and dedicated enthusiasm. 
Michelle Griffiths – Office and Admin Coordinator
With a deep commitment to social change and a steadfast belief in the power of advocacy, Michelle is an engaging & caring professional with over 15 years of experience working across the public, private and NGO sectors within marketing & communications roles.
As Admin Co-ordinator at Bus Stop Films, Michelle is able to focus on her commitment to driving change and improving the lives of others. She believes strongly in social justice, ethical and sustainable living, and creativity. Michelle is passionate about kindness and this principle drives all aspects of her life.
Michelle was the director and founder of a successful retail sustainable food industry family business for over 12 years. She wore many hats within the business, including financial management, marketing and communications, website management, customer service and social media management. 
Michelle holds a BA in Communications from the University of Western Sydney.
Angela Blake
Angela is the Co-Founder of SF3 – SmartFone Flick Fest, Australia's international smartphone film festival. Founded in 2015 and after sell-out seasons at the Sydney Opera House & Event Cinemas George St, they are now starting on their 7th season. Angela teaches filmmaking and acting throughout Australia with SF3 and NIDA.
Read more...
She has also worked at The Wayside Chapel in Sydney for the past 8 years, has produced countless short films and documentaries with her students and staged many theatre productions including Cosi.
She is also an accomplished emerging director and writer in both film and theatre. Her credits include: various shorts and promo films for SF3. Short films include: Upsold, Face the Day, The Circle Game & BE. Theatre includes: The Restaurant Diaries, Romeo and Juliet and Weeing on a Stick which won the Wildcards Award at Short+Sweet.
Angela also works as a performer. Her most recent acting credits include A Place To Call Home season 6, Love Child season 2 & Top of the Lake: China Girl. She has also worked as a dancer, singer and acrobat in over 16 countries for companies including Princess Cruise Lines, MEI, Cartoon Network and in various circuses. She has a Bachelor's Degree in Communications from Griffith University and is currently studying for her Master's in Creative Writing at UTS.
Grace Anderson
Grace is a script writer, musical enthusiast and honest storyteller. She's a recent graduate from AFTRS, and currently works as a Development Coordinator at Fremantle. She's been involved in the past with organizations such as Varuna House, the Byron Writers Festival and the Australian Podcast Awards. Most recently, she has been a part of SYN Media's Podcast Incubator Program for development of her debut musical podcast, Twinemies.
Ellen Britton
Ellen is a hands on filmmaker, specialising in documentary and short form programs which aim to connect and inspire audiences. After graduating from Uni of Canberra with a Bachelor of Media Production and Screenplay in 2016 her work has been featured in film festivals and galleries around and Australia and the world. 
Tom Fiander
Tom graduated from the University of Canberra with a Bachelor of Arts (Film Production) in 2021. During his undergraduate course, Tom worked on numerous productions in Canberra, small and large, specialising in Grip and Lighting and dabbling in Editing and Colour Grading. You can find Tom around UC as a Student Experience Officer for the Faculty of Arts and Design, and a Senior Aspiration Agent with Aspire UC. Tom is halfway through a Master in Secondary Teaching at UC where he is committed to supporting the next generation of filmmakers at a secondary education level.
Alex Hancock
An Australian Film Television and Radio School (AFTRS) Alumnus with a
Bachelor of Screen Production.
Post graduating, Alex has been freelancing as a videographer, drone
operator, live stream operator, and editor.  Alex has experience
working in the camera department for Rosehaven Season 4 (ABC) and The
Tailings (SBS) as well as numerous short films. Alex is committed to
supporting Tasmania's screen industry and is passionate about enabling
access and representation.
Duncan Ragg
Duncan is a writer, actor and director living in regional NSW. He is the co-Artistic Director of The Corinthian Food Store and the Artistic Associate at Midnight Feast. He has written feature films Liberty St and Unraveling, and his short film Theo & Celeste garnered 80,000 views in a week on Vimeo. 
Read more...
His films have been shown around the world, including MIFF, VIFF, Flickerfest, GBiennale and many more. His theatre credits include Much Ado About Nothing (Bell Shakespeare), There Will Be A Climax (Old Fitz), Cock (Auckland Live), The Kitchen Sink (Ensemble Theatre), Fireside (Midnight Feast), The Water Angel (Can You See Me Theatre) Cosi, Writing for Performance, Kandahar Gate, Cymbeline, The Red Shoes (NIDA) and The Removalists (Free Rain). Duncan's film and television credits include: Doctor Doctor, Liberty St, Night of the Lotus, Lift, Marley, Someone, Shadows and 2:22. Duncan was the writer/director on This, This Is Mine, which sold out tours across Sydney, Melbourne, Canberra and NYC. He was Assistant Director to Judy Davis on Faith Healer and The Dance of Death (Belvoir) and in 2019 shadowed Bob Wilson on the creation of his new work Mary Said What She Said at the Theatre de la Ville, starring Isabelle Huppert. He is a recipient of the Marten Bequest and the Mike Walsh Fellowships.
Joe Wilkie
Joe's work in documentary, drama, advertising and social media has been featured in VICE, The Huffington Post and Daily Mail as well as the socials for brands like VB, Corona, Volley, Somersby and Peters Ice Cream.
As a producer, he relishes a challenge and likes to tell stories that matter. His work with Indigenous communities in Far North Queensland and the Kimberley's has been instrumental in improving health and educational outcomes for communities that are too often marginalized and isolated from basic needs.
Read more...
In the social media space, his experience working with Greta Thunberg and social influencers has given him a unique insight into how good content can grow audiences while creating a lasting behaviour change.
In his spare time, Joe enjoys cryptic Instagram stories, pretending to be good at cooking and writing his bio in 3rd person."
Martha Goddard
Martha is an award-winning writer and director of short drama, documentary and web content, having screened at over thirty film festivals around the world. Last year Martha directed an episode of Jonathan M. Shiff's acclaimed television series, The Bureau of Magical Things, Season 2.  Martha is passionate about the collaborative process and ambitious to create distinctive, empowering content across many platforms. With Bus Stop Films Martha has directed heart warming Sunshine, our co-production with Taste Creative and We'll Always Have Dance. Both films premiered at the Brisbane International Film Festival.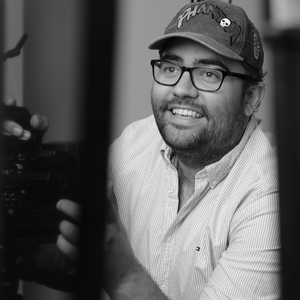 Marcus McKenzie
Marcus is a South Australian writer, director and producer. After graduating from Flinders University with a Bachelor of Creative Arts (Screen), he co-created the first original ABC iView dramatic series Wastelander Panda. In 2016 he won Madman Production Company and Epic Films' "Million Dollar Babies" feature film pitching initiative and went on to produce the short film The Projectionist starring Chris Haywood. The film, funded as part of Screen Australia's Hot Shots Plus initiative, was one of six films shortlisted for the AACTA Award for Best Short Film.
Olivia Staffieri
Olivia Staffieri is a film enthusiast who spends all her time either watching or making movies. After years of volunteering on student films and community television, Olivia founded Nine Tales Studios- an independent production company with a focus on collaboration amongst emerging artists and media practitioners. Olivia has a passion for inclusive arts practices and believes that filmmaking is for everyone.
Julian Neuhaus
Julian is a filmmaker based in Sydney who has worked on a variety of film projects, from documentaries, short films & feature films to advertising and social media content. With a keen focus on the technical aspects of filmmaking craft, he works heavily across multiple disciplines from directing, editing, cinematography to composing, often simultaneously.
Read more...
Julian became involved with Bus Stop Films in 2016, through an internship he did as part of his Bachelor of Arts (Screen) degree at the Australian Film Television & Radio School (AFTRS), which he completed in 2017. Since then, he has established a small business and worked for a range of clients, often partnering with other creative agencies to create films and screen content for organisations big and small.
Rebecca Kirwan
Rebecca is an award-winning filmmaker who values strong relationships as much as strong storytelling. With over ten years of experience behind the camera, her work in documentary and narrative films fuels her passion for telling impactful, life-changing stories. As a young stage actress and writer, Rebecca found a love for the arts early on. Graduating from the esteemed Australian Film, Television, and Radio School in 2010, Rebecca earned a Graduate Certificate in Documentary Film. Focusing her passion on discovering new and diverse stories to share with the world, Rebecca began her own company (RealFilms) and freelance filmmaking business.
Read more...
Rebecca recently returned to Australia after living in the United States for three years to further her education and filmmaking experience. In New York she earned a Professional Certificate in Advanced Digital Filmmaking and worked with a number of high profile directors and production companies as a producer. Rebecca's portfolio of films encompass non-profit organisations, educational topics, and corporate entities alike. She is driven to create meaningful content and understands the power stories can have on impacting our world for the better. Rebecca is particularly interested in matters related to social justice, equality and women's issues.
Her determination to highlight quality stories through the lens has not only garnered her an outstanding reputation, but also recognition at film festivals across the world.
Veronica Wain – PLACES Project Manager
Veronica is an award-winning producer, filmmaker, academic and writer with a passion for social justice and the arts. Luminosity, a short she produced and co-created with members of disability performance troupe, Sunshine Troupe won the major award at the 2021 Focus on Ability Film Festival.
Read more...
She received her PhD with Griffith Film School where she explored disability and media representation, creating a feature length documentary as part of her work. Veronica draws upon her lived experience as Mum (favourite role) to Allycia, and brings a rich and diverse background and interdisciplinary approach to her work. She is currently Project Lead with Power To You – a screen based learning platform co-designed by young people with disability.
Veronica has worked within the Disability Sector for many years, having served on several boards and committees including Inclusion Australia, Parent to Parent and The Chromosome 18 Registry and Research Society.
Tim Grubisic
Tim is a Sydney based filmmaker with a passion for inclusivity in storytelling. He believes that every voice matters and he reflects this belief in his approach to filmmaking. He's worked in many different roles on various short films, web series, documentaries, and promotional content. In 2020 he graduated from WSU with a Bachelor of Screen Media (Arts & Production).
Read more...
You can usually find him watching movies, cooking, or working on one of his many creative projects. He is currently working on a wacky card game, an exciting fiction podcast series, and just last year he wrote and directed his latest short film 'Mega Heist'. He's learned so much in his time as a filmmaker, and he's excited to share his expertise.
Joanna Joy
Joanna is Recipient of the Creative Young Leaders Fellowship and featured as part of Sydney's For Film's Sake Festival and Melbournes Women in Film Festival, Joanna Joy is a multi-disciplinary director and artist. Informed by her background in Film and Law Joanna has spent the last five years researching and producing directorial projects that meditate on the female experience. Her most recent film project involves the adaption of Judith Wright's 'Generations of Men' and 'Cry of the Dead' on Darumbal and Barada Country, under the consultation of Director Wayne Blair.
Andrew Kavanagh
Andrew has been making films for the past 12 years and graduated from the VCA Film School in 2012. His films have won numerous awards both nationally and internationally, including The Best Emerging Filmmaker prize at MIFF, The QANTAS Spirit of Youth Award and Best Film at the St Kilda Film Festival.
Read more...
For the last five years he has worked as a producer, director and supervising producer at VICE, creating their flagship long form docu-series, AUSTRALIANA (SBS VICELAND – 2017 – 2019), and developing and directing its 2015 special on Indigenous Incarceration OVER- REPRESENTED (ABC – 2016).
Benjamin Mair 
Benjamin is an award-winning writer/director based in the Blue Mountains, his films having played over 30 festivals across the globe. After writing and directing stage-plays for Q Theatre and Joan Sutherland Performing Arts Centre, Ben graduated film school and relocated to Japan, creating educational manga and short films. Once back in Australia, he founded a production company that brings together local filmmakers and artists to work on a variety of film and multimedia projects.
Read more...
With a particular passion for writing for film, he has completed several screenplays, his work
reaching the finals of competitions judged by both Roger Avery (Pulp Fiction) and Don Murphy (Transformers) This led to mentorships with writers from Dark Horse Entertainment (The Mask) and Red Hour Films (Zoolander). This year he has received funding to produce a proof-of-concept for a horror feature, and is collaborating with local musicians and artists on a unique comic-book/LP hybrid
Justice Jones 
Justice Jones Massaad is a  graduate from the National Institute of Dramatic Arts, Master of Fine Arts, Directing. Prior to her studies at NIDA, she completed a Bachelor of Music Performance, Classical Voice at the Sydney Conservatorium of Music. As a young artist and director she has worked with major Australian theatre companies including; Sydney Theatre Company, Griffin Theatre Company, The National Theatre of Parramatta, Pinchgut Opera Company, The Australian Theatre for Young People and Opera Australia.
Read more...
She was the recipient of the 2019/20 BBM Global Industry Performing Arts Scholarship with a focus on pursuing directing in the European industry, specifically Italy, and was a finalist for the 2020 Create NSW x Griffin Incubator Award where she developed a new work under the leadership of Griffin Theatre Company. She is also a member of Contemporary Asian Australian Performance and recently took part in their inaugural artist development program. As well as live performance, Justice has a strong interest in short film and works freelance as a creative director, producing video content for several Australian fashion brands and music artists. As a performer she is signed with International Casting and Creative Management and has studied screen acting at both The Actors Pulse Sydney and Screenwise. As a creative, Justice's passion is for creating new works accessible to all audiences, giving voice to minority stories and ensuring our stages and screens are a diverse reflection of our world today.
NSW
Monica Power , Adi O'Hara, Carol Scherret, Sarah McCarthy, Carly Hawkins, Lucky Chen, Michelle Sutton, Kate Bobis, Suzanne Dunne, James Kilby, Elvies kimutai, Aydin Miles, Anna Summerhayes, Jewels Bowering
SA
Rose Blackthorn, Cat Morgan
ACT
Afolashade Sandra Nwaobi (Shade),Hugo Hyde,Marjan Bonyadi
QLD 
Mathew Bing , Krittika Puhakka , Jessica Sherlock
VIC 
Harry Johnson, Campbell Vinson, Brendan Kearns, Emmylou Hocking
WA
Clare Gibellini, Nathan Mewett
TAS
Lauren Neal, Bijay Sapkota