Bus Stops Films has been in operation since 2009, teaching adults with disabilities and others from marginalised communities film studies. We use filmmaking and the film industry to change community attitudes globally around the rights and contribution to society of and by people with disability.
We EDUCATE, CREATE and ADVOCATE. Bus Stop makes films with, for and about people from diverse backgrounds and abilities.
Our programs are taught by passionate filmmakers and industry experts to give our students a holistic filmmaking learning experience and offer students increased, social, literacy and work ready skills.
Students who participate in our programs benefit from exclusive workshops, excursions, workplace opportunities, mentoring with industry professionals and the opportunity to work collaboratively on a film project.
This is my 3rd year with Bus Stop Films. We have had the opportunity to learn about stop motion animation and create from start to finish our own stop motion animation which was really fun. We came up with ideas then formulated them into a storyboard and then became and arts department to create what we used in the animation. We set up the scenes and filmed and added sound.
Rae – Bus Stop Films student
Reports, Policies and Strategies
Read our annual reports, policy documents and our guiding strategies to gain further insight into our organisation.
Bus Stop Films wouldn't happen without amazing supporters, encouraging partners, dedicated sponsors and a team of big thinkers.
Bus Stop Films is run by a group of passionate and dedicated individuals who understand the power of filmmaking and education. Everyone on the team gives their time and resources to make our projects, workshops and advocacy events possible.
Genevieve Clay-Smith- Co-Founder and Director
Genevieve is a diversity and inclusion champion, creative director, social entrepreneur, arts and culture advocate and Australia's foremost globally innovative, inclusive filmmaker. She has a portfolio career, which spans the film industry, not for profit sector and advertising. She's an award-winning writer/director, with work showcased at various Oscar qualifying film festival and the United Nations. Genevieve has recently received the Emerging Leader award at the 2019 Telstra Business Women's Awards.
Read more...
Additionally in 2016 she won the B&Ts 30 under 30 award in the & entrepreneurial category, in 2015 she was the NSW Young Australian of the year and in the same year won the B&Ts Women in Media award for creative. Genevieve also won the 2014 100 Women of Influence, Young Leader award.
Additionally in 2016 she won the B&Ts 30 under 30 award in the & entrepreneurial category, in 2015 she was the NSW Young Australian of the year and in the same year won the B&Ts Women in Media award for creative. Genevieve also won the 2014 100 Women of Influence, Young Leader award.
She is co-founder of creative agency Taste Creative, which was awarded the 2018 Optus Marketing & Advertising Business of the Year, along with being shortlisted for the 2015 Mumbrella Award for best Emerging Agency and was shortlisted for B&Ts Emerging Agency of the Year award. She has over 10 years experience working in the creative industry across an array of diverse media platforms with her primary passion being film. She's also the Co-Founder and former CEO of Bus Stop Films, a not for profit that provides an accessible film studies program for people with intellectual disability. Currently, Bus Stop is forging partnerships with top production companies to provide work experience and employment opportunities for people with disability who are involved in the program.
She is a board director of the Monkey Baa Theatre and is also a former committee member on the NSW Arts and Culture Advisory board.
Eleanor Winkler- Co-founder
Eleanor is a film, tv and digital producer with 12 years' experience producing short and longform, narrative and branded content in the US and Australia. As the co-founder of Bus Stop, Eleanor was driven to create a space for innovation and inclusion for under-represented communities in the film and television industry and bring audiences socially conscious comedy across multiple platforms. Eleanor acted as Executive Producer from 2009 thru 2018, producing many of the company's shorts including The Interviewer and I Am Emmanuel. In her time at Funny Or Die, Eleanor produced sketches featured by The Hollywood Reporter, Indiewire, Huffington Post, MTV, FastCompany and Splitsider. 
Read more...
She's also collaborated with A-List talent like Judd Apatow, Amy Schumer and Rachel Bloom. Moving from sketch, to late night, then across to narrative, Eleanor is now Co-Executive Producing comedy for ViacomCBS, which includes season 1 & 2 of HOT DATE. Her unique collection of work has been viewed millions of times online, included in school curriculums, and influenced public policy. Eleanor continues to collaborate with Genevieve Clay-Smith and Bus Stop Films on upcoming feature film BABY CAT.
Peter Tonagh – Chairman
Peter is a prominent business leader with extensive experience within the Australian media industry. He is currently Deputy Chairman of the Australian Broadcasting Corporation and Chairman of ACT Media Ventures. He has recently completed a term as a member of the Council of the Australian Film Television and Radio School. His previous executive experience includes roles as Chief Executive Officer of both Foxtel Management Pty Limited and News Corporation Australia and as Interim Chief Executive Officer of REA Group Limited. He is former Chairman of MultiChannel Networks Pty Limited and a former Non-Executive Director of Ten Group Holdings Limited.
Read more...
Peter has a B.Comm from UNSW, an MBA from INSEAD, Europe's leading business school, and is currently completing the Harvard Business Analytics Program. 
Peter is a committed advocate for equality, diversity and inclusion and is passionate about the role of content creation in driving social cohesion.
Emily Dash
Emily is a writer, actor and disability advocate, whose varied work across the community arts and mainstream sectors emphasises social justice.  She is also a producer and project manager at Maitree House Productions, and is an Accessible Arts Advisor. She has 10 years experience on the Board of Participate Australia, 9 of which she served as Vice Chair. She was selected as the NSW Representative to the National Arts and Disability Strategy Steering Group in 2018, and in 2019 became a Board Director at Bus Stop Films. Emily also sits on the board of Accessible Arts.
Read more...
Emily was shortlisted for the 2018 Equity Diversity Showcase. She also participated in AFTRS NSW/ACT Talent Camp 2019 and Screen Australia SBS Digital Originals 2020.  As a 2018/2019 PACT Resident Artist, she created her own show "Freefall" (2019). Selected credits include "Chrysalis" (2017) for Midnight Feast Theatre, staged reading of "The Normal Heart" (2017) at Darlinghurst Theatre Company, and "CONNECT" (2016) for Red Door Arts and Ever After Theatre.  Her film credits include "Groundhog Night" (upcoming 2020), "The Milky Pop Kid" (2017), "The Cards I'm Dealt" (2016) and "I Am Not A Work Of Art" (2016). She did a writing and research internship with Matchbox Pictures in 2017, from which she was credited as a consultant on ABC drama "The Heights".
Brian Maguire
Brian Maguire B.Comm, FCA, is the Founder of Absolute Clarity Business Coaching and Mentoring Group. Brian is a Chartered Accountant with over 40 years experience in the Corporate, Business and Not-For-Profit sectors. Brian has maintained a full Business Coaching practice since 2001.
Read more...
Brian is a founding member of the International Association of Coaches and has served on the Boards of the International Coaching Federation Australasia, The Business Enterprise Centre and Pittwater Business Limited. He currently serves on the Board of The Heal For Life Foundation.
Born in Ireland, Brian completed his professional accountancy training with KPMG followed by Senior Financial and Commercial Management roles with Pacific Dunlop, Reil Corp and ICI/Orica here in Australia. Since 1994 He has been involved in building and running his own businesses.
Brian has been a mentor, coach and educator for most of his professional life and has developed and presented business development programs for many corporate clients.
Brian is committed to helping business owners and leaders get more out of life professionally and personally while maintaining focus on what really matters, and Absolute Clarity operates to a set of values that reflect this commitment.
Kate Aitken
Kate is the Vice President of People and Culture at Optus. She has previously served in a number of senior Human Resources and business roles at Westpac, Goldman Sachs and Macquarie in Australia, Asia and London.
Kate is a Director of the Junior Diabetes Research Foundation, is a member of Chief Executive Women where is also a member of the Scholarship Committee and is a founding member of the Minerva Network.
 She is passionate about equality, access, inclusion and diversity and has designed, led and championed important and innovative initiatives and programs throughout her career.
Read more...
She is passionate about equality, access, inclusion and diversity and has designed, led and championed important and innovative initiatives and programs throughout her career.
Jacqui Attard
Jacqui was introduced to Bus Stop Films through the Small Business Commissioner Robyn Hobbs OAM and was drawn to the unique impact the organisation is having through it's film studies curriculum and advocacy endeavours.
Read more...
Jacqui is the CEO of  Realise Business (formerly BEC Southern Sydney). She has had the privilege of coaching and training hundreds of business leaders over the last 15 years; assisting them to accelerate their business growth and business value. Her key strength is the ability to address the source issues that are blocking a business' progress and design practical solutions that deliver results quickly. As CEO of Realise Business, she is responsible for engaging with the Sutherland Shire business community to deliver development programs that enhances their business skills and improve their business performance.</span>
Fiona Stuart
Fiona Stuart is a media and entertainment lawyer with over 15 years' experience advising clients in various commercial and media law matters with a specialisation in television production/financing, multi-platform content licensing, domestic and international distribution deals and music licensing arrangements, working for key industry players including Foxtel, Screentime and currently is Director, Business & Legal Affairs at Matchbox Pictures.
Read more...
Before her career in law, Fiona was a voice actor in South Korea for 7 years and performed in various children's animation series including Pokémon, Winnie the Pooh and Hello Kitty. 
 Fiona was drawn to Bus Stop Films as a leader in inclusive filmmaking and joined the board in the capacity of Company Secretary in 2020. 
Jennifer Collins
Jennifer is one of Australia's leading television executives with a career spanning 29 years. She was most recently Director of Content at Fremantle in October 2018, with responsibility for both scripted and unscripted development and production slates after 5 years in her role as Head of Non-Fiction at Screentime, where she oversaw a slate of programs that included The Secret Life of 4 year olds, Stop Laughing…this is serious, Todd Sampson's Life on the Line, Testing Teachers, Making Child Prodigies, Date Night, Eat Well for Less, Flying Miners, Outback ER, Felicity's Mental Mission, How Not To Behave, and RBT.
Read more...
Formerly at ABC TV she was responsible for hundreds of hours of content. As Head of Entertainment she oversaw a slate of highly acclaimed programs including Dirty Laundry Live, Adam Hills Tonight, The Chaser Decides, Julia Zemiro's Home Delivery, Mad as Hell, The Agony of Life, Gruen Planet, The Elegant Gentleman's Guide to Knife-fighting, Tractor Monkeys and Kitchen Cabinet. She commissioned the Digital Emmy award winning series #7 Days Later and set up the online comedy initiative Fresh Blood. As ABC TV's Head of Factual she was responsible for the development and commissioning of an impressive slate of documentaries as well as factual entertainment series including Poh's Kitchen, Who's Been Sleeping in My House?, Dream Build and The Checkout.
Dianna La Grassa – COO and Board Member
With over 10+ years of experience in the education sector, an MBA graduate and a NIDA trained actress and emerging Film Producer Dianna is our COO.
As a woman living with disability and understanding that the Arts and Entertainment industry can sometimes be a hard nut to crack, she wanted to find a way to fully utilise her skill set and give back to an industry she loves. Bus Stop Films is a place where her combined passions and skills sets can flourish.
Read more...
As the COO it has given her great pleasure to watch the organisation pave groundbreaking pathways for the inclusion of people with disabilities in the film industry and watch the students blossom in these interactive and unique environments, seeing them develop real life skills and opportunities for their passion.
Joint Patrons – His Excellency General the Honourable David Hurley AC DSC (Retd) and Her Excellency Mrs Linda Hurley
His Excellency General the Honourable David Hurley AC DSC (Retd)
Governor-General of the Commonwealth of Australia
His Excellency General the Honourable David John Hurley AC DSC (Retd) was sworn in as the Governor-General of the Commonwealth of Australia on 1 July 2019.
David Hurley joined the Australian Army in January 1972, graduating from the Royal Military College, Duntroon into the Royal Australian Infantry Corps. In a long and distinguished 42-year military career, his service culminated with his appointment as Chief of the Defence Force.
Read more...
He commanded the 1st Battalion, The Royal Australian Regiment during Operation SOLACE in Somalia in 1993, receiving the Distinguished Service Cross. Following promotion to Colonel, he was appointed Chief of Staff, Headquarters 1st Division in June 1994, attending the U.S. Army War College in 1996 and 1997. He commanded the 1st Brigade from 1999-2000 in Darwin, supporting Australian-led operations in East Timor. He was appointed the inaugural Chief of Capability Development Group from 2003-07, Chief of Joint Operations Command in October 2007, and Vice Chief of the Defence Force in July 2008. Promoted to General, he succeeded Air Chief Marshal Angus Houston as Chief of the Defence Force on 4 July 2011 until his retirement on 30 June 2014. In 2010, he was appointed a Companion of the Order of Australia for eminent service to the Australian Defence Force.
Prior to being sworn in as Governor-General, David Hurley served as the 38th Governor of New South Wales from October 2014 – May 2019.
David Hurley was born in Wollongong, New South Wales on 26 August 1953, the son of Norma and James Hurley. His father was an Illawarra steelworker and his mother worked in a grocery store. He grew up in Port Kembla and attended Port Kembla High School where he completed his Higher School Certificate in 1971. He graduated with a Bachelor of Arts and Graduate Diploma in Defence Studies from the Royal Military College, Duntroon in 1975. He is married to Linda with whom he has three children: Caitlin, Marcus and Amelia.
He was awarded an Honorary Doctorate of Letters from the University of Wollongong in 2013; a Doctor of the University, honoris causa, from the University of New South Wales in 2015; made a Fellow of the Australian Academy of Technology and Engineering in 2016; and awarded an Honorary Doctorate from Macquarie University in 2017.
Her Excellence Linda Hurley
Her Excellency Mrs Linda Hurley (nee McMartin) was born and raised in Sydney. She was educated at Kingsgrove High School and went on to become a teacher, commencing in 1976. She married David Hurley in 1977.
In the course of their married life, Mrs Hurley has supported her husband throughout his career on a wide variety of postings in Australia and overseas, including the United States, the United Kingdom, Germany and Malaysia.
Mrs Hurley's own career in education has been in both the public and private school systems, until her retirement from full time teaching in July 2011. She has been an active member of the community as a Pastoral Carer at the Canberra Hospital and Hospice. Mrs Hurley holds a Bachelor of Education from the University of Canberra.
Read more...
Mrs Hurley has an interest in the Arts, especially music. She is passionate about singing, and showing how singing, especially in a group, can have a positive impact on individuals and the community.
Mrs Hurley is a member and was the first Patron of 'Solid Rock', a Christian Ministry to women in Defence. She has been a member of the St Andrew's Presbyterian Church choir in Canberra and is a member of the Australian Military Wives Choir.
Mrs Hurley is dedicated to championing causes that are developing new technologies to recycle rubbish, and ways to reduce our use of plastic, particularly plastic packaging and plastics used for single use items, which are not only harmful to the environment but add unnecessarily to landfill sites.
Their Excellencies have three children: Caitlin, Marcus and Amelia, and one grandchild: Charlie.
Rachel Griffiths
One of Australia's most prolific thespians, Rachel Griffiths makes her directorial debut with Ride Like A Girl. She is an Academy Award Nominated and multi-award-winning actress. After a successful career on the Australian stage, Rachel Griffiths burst onto the international scene in 1994 with P.J. Hogan's much-loved feature film Muriel's Wedding.
Read more...
Her film credits since then include My Best Friend's Wedding alongside Julia Roberts, The Rookie, The Hard Word with Guy Pearce, Blow, Step Up, Burning Man, Ned Kelly, Patrick, Saving Mr Banks with Tom Hanks, Beautiful Kate, Hilary & Jackie in a performance which earned her an Academy Award Nomination, and Mammal, which premiered at Sundance Film Festival 2016. Most recently Rachel starred alongside Hugo Weaving in Mel Gibson's Hacksaw Ridge to critical acclaim.
In television, Rachel earned a Golden Globe for her portrayal of Brenda in the critically acclaimed and long running HBO series Six Feet Under. She also received an Emmy Award Nomination for her role in fellow US series Brothers & Sisters. Other television credits include the HBO/NBC series Camp and the Julian Assange biopic Underground, which screened at the Toronto International Film Festival, Paper Giants: Magazine Wars and Deadline Gallipoli for Foxtel alongside Sam Worthington, Hugh Dancy and Charles Dance. In 2017 she starred alongside Guy Pearce in ABC's When We Rise. She can most recently be seen in Subtext Picture's four-part miniseries Dead Lucky.
Joni Campbell
Joni has been a student in Bus Stop Films' Accessible Film Studies Program since 2015, working on the 2016 film "Kill Off" and the 2017 documentary "I am Black and Beautiful" in multiple behind camera roles, including Assistant Director. In 2017 she completed an internship with the ABC as Production Assistant for the children's program "Playschool". Joni is an advocate for equal opportunity and has spoken to the NSW Premiers' Department for International Day of People with Disability.
Read more...
Through her association with Bus Stop Films, Joni has been involved in making two very personal documentaries, "Breaking The Biz" and "What Was It Like?". "Breaking The Biz" explores her journey with Bus Stop Films and the personal and professional growth that has come from the inclusive filmmaking program. More recently, Joni along with seven fellow students, worked to create "What Was it Like?", a documentary based on interviews with their parents about the way in which they were told about their child's disability and the things they would never achieve. Joni along with her fellow students hope that through this film they will be able to educate and make a difference.
Nathan Basha
Nathan is a passionate film maker and since 2011 he has been a student of Bus Stop Films; Accessible Film Studies Program. He has been an Assistant Director for a number of internationally award winning films including The Interviewer and Heartbreak and Beauty along with working on various film shoots as a camera, production and lighting assistant.
Read more...
When not engaged with filming Nathan is a unique motivational speaker pushing boundaries. Nathan might happen to have Down syndrome but he says, "That's not who I am". As an employment advocate for people with a disability, he has spoken at international and national conferences, political forums, universities, schools and workshops, sharing his insights about what can happen when people are encouraged to live their dreams and live life to their full potential.
Nathan also works as an Office Assistant for radio stations Nova 96.9 and Smooth FM.
Gerard O'Dwyer
Irish born, Gerard O'Dwyer is a longtime Bus Stop Films student and ambassador who has a career spanning, onscreen and stage acting as well as advocacy work for inclusion. 
His on screen acting began in the short film, Be My Brother, which won Best Film and earned him Best Male Actor at the 2009 Tropfest Film Festival. Following this in 2013 Gerard starred in the short film, The Interviewer, which won several awards in Australia and internationally with Gerard being awarded Best Actor at the ReelheART International Film Festival in Canada.
Read more...
In 2016 he shot his first feature length film, Red Christmas, alongside Scream Queen Dee Wallace of E.T and The Howling fame. He was also a cast member for seven episodes on the ABC's Everyone's A Critic, appeared in commercials for Multicultural Care and Medibank, and was an advocate for the 2011 Care Careers campaign with the commercial airing for four years across major networks.
In 2018, Gerard's acting took him to Tokyo with his role in the short film Shakespeare in Tokyo followed by a voice over project in Los Angeles for a children's eBook 'I Didn't Like Hubert'.
Gerard's advocacy work has seen him on Nine Network's TODAY, Seven Network's The Morning Show and Network Ten's, Studio 10. He was also ambassador for the DontDisMyAbility campaign in 2010/11. In 2012, he was awarded the Emerging Leader Award at the National Disability Awards due to his disability led advocacy. 
In 2010 he was a co-founding member of Ruckus, a disability led, contemporary performance ensemble. His first foray into opera was in the production of Menotti-The Medium where he played a mute character, on stage for almost the opera's entirety.
Courtney Gibson
With a background in TV production and commissioning, Courtney is strong leader in the industry having served as CEO of Screen NSW, CEO South Australian Film Corp and Adelaide Studios, Programming Production Executive at the Nine Network, Director of Programmes at Southern Star, Executive Head of Content Creation at ABC TV, Head of Arts, Entertainment and Comedy at ABC TV and Commissioning Editor of Documentaries at SBS Independent.
Read more...
As CEO of Screen NSW Courtney introduced policies which delivered gender parity in key creative roles for women in TV in 2016; she was awarded the 2017 Cecil Holmes Award by the Australian Directors Guild in recognition of this. Courtney was Chair of the Screen Diversity Inclusion Network (SDIN), a Board Member of Australians in Film which promotes Australian screen practitioners and screen culture in Los Angeles and serves on the Board western sydney community arts organisation Information + Cultural Exchange.
Paul Nunnari
Paul is a strong disability advocate, entertainer and Paralympian. Paul has worked across all levels of government providing advice on the National Disability Strategy, the National Disability Insurance Scheme, and the NSW Disability Inclusion Action Act.
Read more...
Paul works for the NSW government as Director Access and Inclusion. As part of this role Paul advises the Events team on the implementation of accessible and inclusive event planning and delivery to all major and community NSW Government supported events across NSW. These events include Sydney NYE, Invictus Games, Australia Day, ANZAC Day, Sydney Gay and Lesbian Mardi Gras, the Sydney Vivid Festival, Newcastle 500's and World Rally amongst others.
Tracey Corbin-Matchett, CEO
Tracey is a proud hard of hearing woman with a passion for film, advocacy and inclusion. As CEO of Bus Stop Films she is advocating for greater representation of people with disability in the screen industry. Her 25-year career has crossed social housing, women's domestic violence services, including 6 years as the State Manager of Women's Domestic Violence Court Assistance Program and the film and television industry, working with a number of industry services including Screen NSW, Event Cinemas and Women in Film and TV (WIFT) NSW. 
Read more...
Her advocacy work in the screen industry has seen her lead on strategies including "Screenability" and "She Shoots" at Screen NSW and WIFT's Raising Films Australia and growing the work of Bus Stop Films on a global scale.
Tracey is an Includeability Ambassador on disability employment to the Australian Human Rights Commission and a Director of Deaf Sports Australia and Northcott (Disability Services). She is also a member of the Screen Producer's Australia Respectful Workplaces Reference Group and TAFE NSW Creative Industries Taskforce. Tracey was a member of the Australian delegation of disability advocates to the United Nation's 15th Conference of State Parties to The Convention on the Rights of Persons with Disabilities (CRPD).
Monica Power – Support and Engagement Manager
Monica has worked in the disability sector for over 20 years. She has been part of Bus Stop Films since they first started their classroom learning in 2010.
Monica loves to see people achieve their goals. As Bus Stop's Support and Engagement Manager she wants to see all students supported to reach their full potential in the Bus Stop course – she wants the walls to be pulled down and for inclusion to be out there in any workplace, friendship groups or sports teams.
Johnny Gabrael – Book Keeper
Johnny is a CPA who brings strong commercial experience across multiple industries and disciplines. His expertise in this area includes taxation, BAS, GST, PAYGW and expertise in a Xero accounting software. Johnny has previously worked in not-for-profit organisations and brings an accounting passion for small to medium enterprises. He was seeking a way to return to work in the non-profit field and upon seeing the important and essential work that Bus Stop Films was doing, he felt this was a perfect opportunity to get back into this sector. Johnny is an essential member of the team and believes in the messages and values espoused by Bus Stop Films and its team.
Nikoleta Minns – Program and Student Experience Coordinator
Nikoleta has over 15 years
experience in producing and project
management, across visual arts, performing arts and multidisiplinary work, including education and public programs. She is passionate about engaging and empowering diverse and marginalised communities through the creative industries.
Serena Moran – Marketing and Events Coordinator
Serena is from Ireland and has 10 years of experience in marketing working across various sectors from retail, hospitality and not for profit. She is super stoked to be able to combine her passion for not for profit and films together. Her favourite thing about marketing is event management.
Mary Carol "MC" Davison – Office Administrator
MC is from the United State and is the newest team member to board the bus! She has worked both in the private and public sectors but non-profits have always had her heart. MC is excited to support Bus Stop Films during this exciting period of growth.
Angela Blake
Angela is the Co-Founder of SF3 – SmartFone Flick Fest, Australia's international smartphone film festival. Founded in 2015 and after sell-out seasons at the Sydney Opera House & Event Cinemas George St, they are now starting on their 7th season. Angela teaches filmmaking and acting throughout Australia with SF3 and NIDA.
Read more...
She has also worked at The Wayside Chapel in Sydney for the past 8 years, has produced countless short films and documentaries with her students and staged many theatre productions including Cosi.
She is also an accomplished emerging director and writer in both film and theatre. Her credits include: various shorts and promo films for SF3. Short films include: Upsold, Face the Day, The Circle Game & BE. Theatre includes: The Restaurant Diaries, Romeo and Juliet and Weeing on a Stick which won the Wildcards Award at Short+Sweet.
Angela also works as a performer. Her most recent acting credits include A Place To Call Home season 6, Love Child season 2 & Top of the Lake: China Girl. She has also worked as a dancer, singer and acrobat in over 16 countries for companies including Princess Cruise Lines, MEI, Cartoon Network and in various circuses. She has a Bachelor's Degree in Communications from Griffith University and is currently studying for her Master's in Creative Writing at UTS.
Grace Anderson 
Grace is a script writer, musical enthusiast and honest storyteller. She's a recent graduate from AFTRS, and currently works as a Development Coordinator at Fremantle. She's been involved in the past with organizations such as Varuna House, the Byron Writers Festival and the Australian Podcast Awards. Most recently, she has been a part of SYN Media's Podcast Incubator Program for development of her debut musical podcast, Twinemies. 
Duncan Ragg
Duncan is a writer, actor and director living in regional NSW. He is the co-Artistic Director of The Corinthian Food Store and the Artistic Associate at Midnight Feast. He has written feature films Liberty St and Unraveling, and his short film Theo & Celeste garnered 80,000 views in a week on Vimeo. 
Read more...
His films have been shown around the world, including MIFF, VIFF, Flickerfest, GBiennale and many more. His theatre credits include Much Ado About Nothing (Bell Shakespeare), There Will Be A Climax (Old Fitz), Cock (Auckland Live), The Kitchen Sink (Ensemble Theatre), Fireside (Midnight Feast), The Water Angel (Can You See Me Theatre) Cosi, Writing for Performance, Kandahar Gate, Cymbeline, The Red Shoes (NIDA) and The Removalists (Free Rain). Duncan's film and television credits include: Doctor Doctor, Liberty St, Night of the Lotus, Lift, Marley, Someone, Shadows and 2:22. Duncan was the writer/director on This, This Is Mine, which sold out tours across Sydney, Melbourne, Canberra and NYC. He was Assistant Director to Judy Davis on Faith Healer and The Dance of Death (Belvoir) and in 2019 shadowed Bob Wilson on the creation of his new work Mary Said What She Said at the Theatre de la Ville, starring Isabelle Huppert. He is a recipient of the Marten Bequest and the Mike Walsh Fellowships.
Martha Goddard
Martha is an award-winning writer and director of short drama, documentary and web content, having screened at over thirty film festivals around the world. Last year Martha directed an episode of Jonathan M. Shiff's acclaimed television series, The Bureau of Magical Things, Season 2.  Martha is passionate about the collaborative process and ambitious to create distinctive, empowering content across many platforms.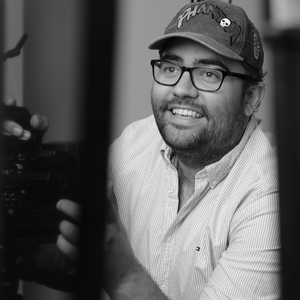 Marcus McKenzie
Marcus is a South Australian writer, director and producer. After graduating from Flinders University with a Bachelor of Creative Arts (Screen), he co-created the first original ABC iView dramatic series Wastelander Panda. In 2016 he won Madman Production Company and Epic Films' "Million Dollar Babies" feature film pitching initiative and went on to produce the short film The Projectionist starring Chris Haywood. The film, funded as part of Screen Australia's Hot Shots Plus initiative, was one of six films shortlisted for the AACTA Award for Best Short Film.
Olivia Staffieri 
Olivia Staffieri is a film enthusiast who spends all her time either watching or making movies. After years of volunteering on student films and community television, Olivia founded Nine Tales Studios- an independent production company with a focus on collaboration amongst emerging artists and media practitioners. Olivia has a passion for inclusive arts practices and believes that filmmaking is for everyone.
Julian Neuhaus
Julian is a filmmaker based in Sydney who has worked on a variety of film projects, from documentaries, short films & feature films to advertising and social media content. With a keen focus on the technical aspects of filmmaking craft, he works heavily across multiple disciplines from directing, editing, cinematography to composing, often simultaneously.
Read more...
Julian became involved with Bus Stop Films in 2016, through an internship he did as part of his Bachelor of Arts (Screen) degree at the Australian Film Television & Radio School (AFTRS), which he completed in 2017. Since then, he has established a small business and worked for a range of clients, often partnering with other creative agencies to create films and screen content for organisations big and small.
Dan Sanguineti
Dan is an award-winning Canberra based Producer with 4 feature film credits including 'Me and My Mates vs the Zombie Apocalypse'; he also co-wrote last year's Focus on Ability winner of Best Australian Screenplay, 'Airlock'.
Read more...
Managing Director of Sanguineti Media, one of Canberra's premier production companies, Dan's focus isn't just on creative content development but also a range of corporate services, TV commercial production and live streaming.
A staple in Canberra's film and video industry for over twelve years, he has been a passionate contributor to the growth and development of other aspiring filmmakers. Dan's experience in producing and developing short films, documentaries and feature films has been invaluable both as a mentor, a tutor with UC and his role as a media teacher at CIT during the last six years.
He is also currently in production of his feature film directorial debut, 'Alice' a horror slasher film, which is scheduled to be completed in November 2020.
Rebecca Kirwan
Rebecca is an award-winning filmmaker who values strong relationships as much as strong storytelling. With over ten years of experience behind the camera, her work in documentary and narrative films fuels her passion for telling impactful, life-changing stories. As a young stage actress and writer, Rebecca found a love for the arts early on. Graduating from the esteemed Australian Film, Television, and Radio School in 2010, Rebecca earned a Graduate Certificate in Documentary Film. Focusing her passion on discovering new and diverse stories to share with the world, Rebecca began her own company (RealFilms) and freelance filmmaking business.
Read more...
Rebecca recently returned to Australia after living in the United States for three years to further her education and filmmaking experience. In New York she earned a Professional Certificate in Advanced Digital Filmmaking and worked with a number of high profile directors and production companies as a producer. Rebecca's portfolio of films encompass non-profit organisations, educational topics, and corporate entities alike. She is driven to create meaningful content and understands the power stories can have on impacting our world for the better. Rebecca is particularly interested in matters related to social justice, equality and women's issues.
Her determination to highlight quality stories through the lens has not only garnered her an outstanding reputation, but also recognition at film festivals across the world.
Veronica Wain 
Veronica is an award-winning producer, filmmaker, academic and writer with a passion for social justice and the arts. Luminosity, a short she produced and co-created with members of disability performance troupe, Sunshine Troupe won the major award at the 2021 Focus on Ability Film Festival.  
Read more...
She received her PhD with Griffith Film School where she explored disability and media representation, creating a feature length documentary as part of her work. Veronica draws upon her lived experience as Mum (favourite role) to Allycia, and brings a rich and diverse background and interdisciplinary approach to her work. She is currently Project Lead with Power To You – a screen based learning platform co-designed by young people with disability.
Veronica has worked within the Disability Sector for many years, having served on several boards and committees including Inclusion Australia, Parent to Parent and The Chromosome 18 Registry and Research Society.
Tim Grubisic
Tim is a Sydney based filmmaker with a passion for inclusivity in storytelling. He believes that every voice matters and he reflects this belief in his approach to filmmaking. He's worked in many different roles on various short films, web series, documentaries, and promotional content. In 2020 he graduated from WSU with a Bachelor of Screen Media (Arts & Production).
Read more...
You can usually find him watching movies, cooking, or working on one of his many creative projects. He is currently working on a wacky card game, an exciting fiction podcast series, and just last year he wrote and directed his latest short film 'Mega Heist'. He's learned so much in his time as a filmmaker, and he's excited to share his expertise.
Joanna Joy
Joanna is Recipient of the Creative Young Leaders Fellowship and featured as part of Sydney's For Film's Sake Festival and Melbournes Women in Film Festival, Joanna Joy is a multi-disciplinary director and artist. Informed by her background in Film and Law Joanna has spent the last five years researching and producing directorial projects that meditate on the female experience. Her most recent film project involves the adaption of Judith Wright's 'Generations of Men' and 'Cry of the Dead' on Darumbal and Barada Country, under the consultation of Director Wayne Blair.
Andrew Kavanagh
Andrew has been making films for the past 12 years and graduated from the VCA Film School in 2012. His films have won numerous awards both nationally and internationally, including The Best Emerging Filmmaker prize at MIFF, The QANTAS Spirit of Youth Award and Best Film at the St Kilda Film Festival.
Read more...
For the last five years he has worked as a producer, director and supervising producer at VICE, creating their flagship long form docu-series, AUSTRALIANA (SBS VICELAND – 2017 – 2019), and developing and directing its 2015 special on Indigenous Incarceration OVER- REPRESENTED (ABC – 2016).
NSW
Monica Power , Adi O'Hara, Carol Scherret, Sarah McCarthy, Helen Robertson, Carly Hawkins
Lucky Chen, Michelle Sutton, Webster Seade, Joe Palmer, Kate Bobis, Suzanne Dunne, Julian Rouch, Annette Cole, James Kilby
SA
Rose Blackthorn, Brendan Kearns
ACT
Bernadette Sainsbury, Lil Paterson 
QLD 
Mathew Bing, Brigid Hennessy , Krittika Puhakka , Jessica Sherlock 
VIC 
Emmylou Hocking, Harry Johnson, Campbell Vinson, Oliver Wicks