Since 2018 Bus Stop Films has worked in partnership with the Arts Council of Mongolia (ACM) to deliver our award-winning Accessible Film Studies Program in Ulaanbaatar.
The team at ACM rolled out Bus Stop's Program through an initiative called "We can, we are talented". The program taught 18 amazing students living with disability, studying alongside 8 mainstream film students. In 2019 with the support of an Australian Cultural Diplomacy grant through the Department of Foreign Affairs and Trade we produced an inclusively made short film Stairs. Bus Stop supported an all-female crew of Genevieve Clay-Smith, Sarah-Jane Johnson and Lizz Vernon to travel from Australia to Mongolia to work on the production of an inclusively made short film, Stairs. Post production took place here in Sydney, with the skilled team at local company The Editors even hosting editing workshops with the students in Mongolia via Skype. Sydney's Big Bang Sound did the sound design.
The project was made possible through the generosity of our amazing supporter Roger Perry OAM, together with a grant from the Australian Cultural Diplomacy Grant Program from the Department of Foreign Affairs and Trade, in recognition of the project's contribution to Australia's soft power influence. This collaborative support opened up a unique opportunity and relationship that we are sure will continue to blossom for many years to come.
Stairs and the Oscars.. In September 2020, the Academy of Motion Picture Arts and Sciences announced new representation and inclusion standards for Oscars® eligibility in the Best Picture category, as part of its Academy Aperture 2025 initiative. Whilst these standards only apply to the Best Picture category (From 2022) our film Stairs meets each of the standard's criteria around on screen representation and narratives, creative leadership and project team, industry and access opportunities and audience development, especially around Women, ethnic groups and people with cognitive or physical disabilities.
https://www.oscars.org/news/academy-establishes-representation-and-inclusion-standards-oscarsr-eligibility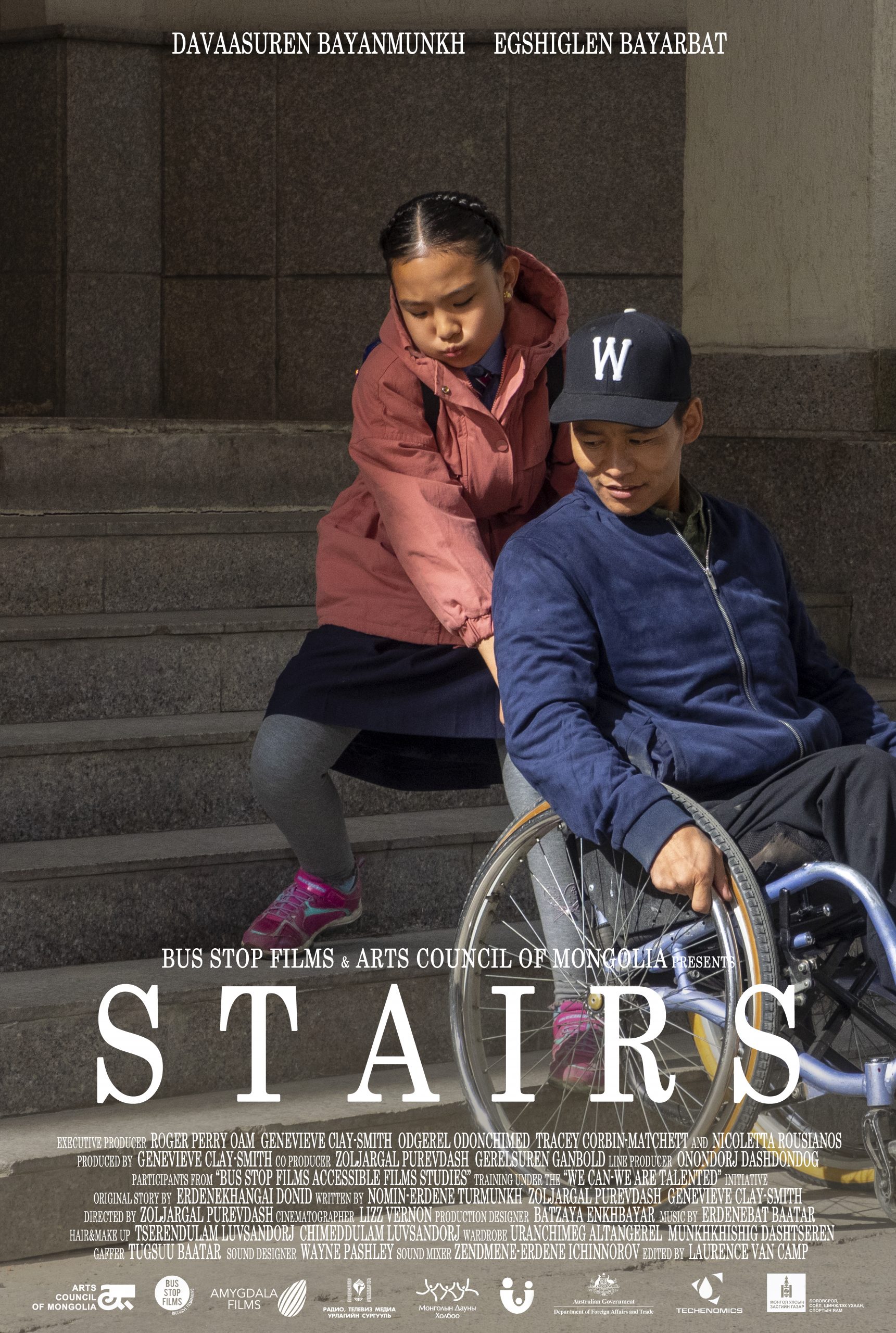 Awards and screenings
Chicago International Children's Film Festival – USA
       First prize for a Live Action Short Film
Ulaanbaatar FIlm Festival – Mongolia
Cinequest Film & VR Festival – USA
       Winner – Best Family Film
Short Shorts Film Festival & Asia – Japan
       Winner – Biogen Award for Making the Impossible Possible
Flickers' Rhode Island International Film Festival – USA
Bentonville Film Festival – USA
Film Festival – USA
Cinefest Oz – Australia
       Winner Best Screenplay
Director
ZOLJARGAL Purevdash
Writers
NOMIN-ERDENE Turmunkh
ZOLJARGAL Purevdash
GENEVIEVE Clay-Smith
Producer
GENEVIEVE Clay-Smith
Co-Producers
GERELSUREN Ganbold
ZOLJARGAL Purevdash
Key Cast
"Sonor"
DAVAASUREN Bayarmunkh
"Misheel"
EGSHIGLEN Bayarbat
Director of Photography
LIZZ VERNON
Associate Producer
SARAH-JANE JOHNSON
Composer
ERDENEBAT BATTAR
Editor
LAURENCE VAN CAMP at The Editors
Sound Design
WAYNE PASHLEY at Big Bang Sound Design
Executive Producers
ROGER PERRY OAM
TRACEY CORBIN-MATCHETT
NICOLETTA ROUSIANOS
ODGEREL ODONCHIMED
Panavision Sydney supplied the camera equipment for the shoot.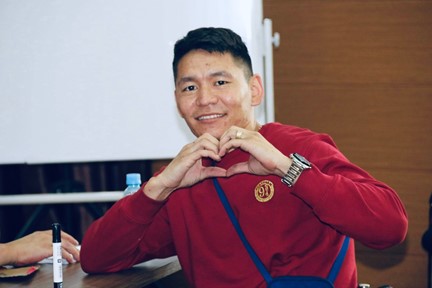 DAVAASUREN Bayarmunkh – "Sonor"
Davaasuren Bayarmunkh was born in Dornogovi, Mongolia in 1992. After graduating high school he served in the military and got a certificate of a professional welder. He worked for several companies as a welder. Unfortunately, in 2015, he fell from height during work and got a spinal cord injury. In 2018, he got a perforation and amputated his left leg. He was an athlete since he was 10 years old. His patience and positive attitude that he achieved from the sports gave him the strength to overcome all his pains and struggles of being disabled.
Davaasuren speaks about his experience of STAIRS:
In 2019, I saw the cast call on a Facebook group of disabled community and I liked the idea of casting a disabled man as a main character. I love the script a lot and I felt I could do it. I am actually a quite shy person, but with the belief and support of the director and crew members, I became more confident about myself. I love the shooting process. I love to work with the intellectual disabled people on set, and it was great to see they're doing their job wonderfully. Everybody had the same passion to make this film which is to give a strong, positive message about inclusion in society. I am very happy that I acted in his film and I really do hope it could bring a lot of positive impact.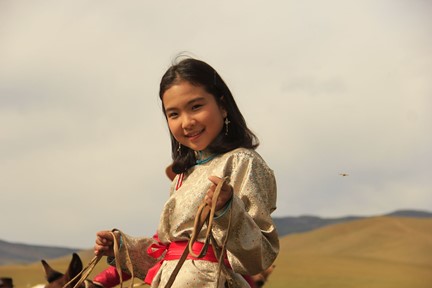 EGSHIGLEN BAYARBAT – "Misheel"
Egshiglen Bayarbat is a 14 years old child actress who grew up in Ulaanbaatar. She lives with her 2 siblings and her parents are both serving in the military. She started taking acting classes in 2019 and Stairs was her first leading role.
Egshiglen speaks about her experience of STAIRS:
I was super excited when I heard that I was selected for the role of sister. It was my very first film. I love the main message of this short film. Why disabled people must walk and live behind us? They are the same as us and I think we must support them. I am very happy that I am spreading a positive attitude through STAIRS and I am also excited about doing big steps for me to achieve my dream to become a great actress. It was inspiring to see all our film crew, director and producer doing their work passionately. I will keep on doing my best and I am gonna become a Hollywood super star someday
In conversation with the team
Director & Co-Writer – Zoro (ZOLJARGAL Purevdash)- Mongolia
Producer & Co-Writer – GENEVIEVE Clay-Smith – Australia
Lead Actor "Sonor" – Davaa (DAVAASUREN Bayarmunkh) – Mongolia
Co-Producer – Gesu (GERELSUREN Ganbold) – Mongolia
Accessible Film Studies Program Student – Byambaa – (BYAMBABUD Sukhtumur) – Mongolia
EP and CEO Bus Stop Films – Tracey Corbin-Matchett – Australia